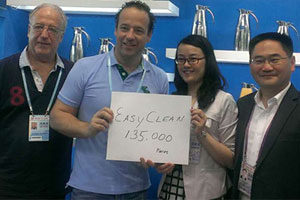 In the early morning of 24th April 2014 in Guangzhou, when the exhibition hall for the 115th Canton Fair was just opened, a grey-haired but vigorous foreign old man and a handsome young guy had already waited in the booth of Solid Company for a long time.
The old man, who is the chairman of a famous family enterprise in the Netherlands, was making a special trip with his son to China to visit his old friend met for nearly 20 years. The family enterprise run by the old man is a houseware company which has a history of over 100 years.
The customer took out a piece of paper with the words "EASY CLEAN – 135000" from his bag gladly and suggested taking a group photo. The reason that he made this trip is to congratulate the achievement of the total sales of one type of specially designed and washable stainless steel vacuum coffee pot, which was developed by Solid and his company 10 years ago, exceeding 130,000 pieces in the Netherlands.
"The quality of their products is very good, we are good friends. Solid is a really reliable company!" The old man repeated the words to his son.